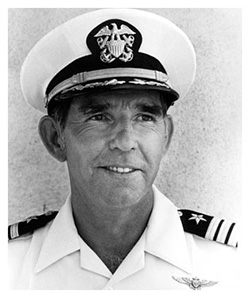 On February 1966 Navy Captain Gerald Coffee was flying a reconnaissance mission over North Vietnam when he was shot down by enemy anti-aircraft fire.
He was soon captured and placed in a military prison in downtown Hanoi, where he would spend the next 7 years of his life: tortured, beaten, and confined to a filthy cell — so tiny that he could neither fully stand up or fully lie down.
How did he endure such inhumane treatment for such an extended time?
In a 2014 interview with PBS, he said…
"Early on my prayers changed from 'Why me' to 'Show me.'
"I quit saying, 'Why me, God?' and I started saying: 'Show me, God…
"'How can I use this positively? Help me to use it to go home as a better, stronger, smarter man in every possible way that I can, to go home as a better naval officer, to go home as a better American, a better citizen, a better Christian.
"'God, help me to use this time productively so that it won't be some kind of a void or a vacuum in my life.'"
Next, he said…
"And after that change in my prayers, every single day took on a new meaning."
There's no question that our trials pale in comparison to Captain Coffee's. And yet, 'Why Me?' remains a mantra for many.
Why Me? leads only to a greater sense of despair.
Show Me, on the other hand, moves us in a new direction, where we experience God's presence and God's power like never before.
Not only so, but we also glory in our sufferings, because we know that suffering produces perseverance; perseverance, character; and character, hope. And hope does not put us to shame, because God's love has been poured out into our hearts through the Holy Spirit, who has been given to us. (Romans 5:3-5)