BOOKS BY STEVE MAY

It's All in the Dailies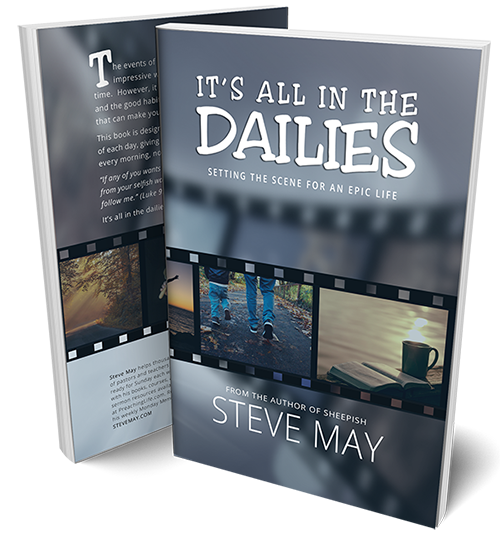 The events of your life may not seem all that impressive when viewed a few frames at a time. However, it is the discipline you establish and the good habits you practice frame-by-frame that can make your life an Oscar-winning epic.
This collection of more than one-hundred readings from Steve's blog and teaching archives is designed to help you make the most of each day, giving this life your best performance every morning, noon, and night.
"If any of you wants to be my follower, you must turn from your selfish ways, take up your cross daily, and follow me." (Luke 9:23)
It's all in the dailies.
OPTIONS:
Print Version: $8.99 Paperback. 170 pages. Order from Amazon
Kindle Version: $4.99 (Free with Kindle Unlimited) Order from Amazon
---
Here Comes Trouble (2 Chronicles 20)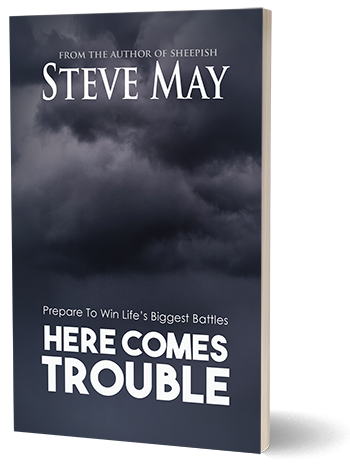 Jehoshaphat was a good king. He worked hard, with integrity, to lead God's people God's way. One day, from out of nowhere, three enemies came together, forming a mighty alliance to attack the nation of Judah.
Jehoshaphat and his people didn't stand a chance…until they called upon the name of God.
In this story, we encounter:
• A courageous king…
• An act of faith….
• The power of praise…
• The promise of victory.
These lessons demonstrate how we can follow Jehoshaphat's example in the face of trouble to find victory through the power of God.
Each chapter includes follow-up questions and suggestions for reflection and group discussion.
OPTIONS:
Print Version: $5.99 Paperback. 60 pages. Buy from Amazon.
Kindle Version: $4.99 (Free with Kindle Unlimited) Buy from Amazon.
---
WALK THE TALK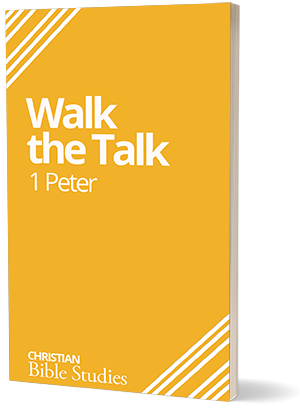 What does it look like to follow God—even when life gets difficult? This Bible study explores the Book of 1 Peter, tackling foundational questions of the Christian life and faith.
As we take in the apostle Peter's words to the early believers, we learn:
– How we can begin to think differently—which will radically affect our behavior
– How to be obedient to God and develop an "appetite for being good"
– How to create a radical change in our relationships
– How to prepare for suffering that inevitably comes to everyone, trusting a loving God who has promised to care for us.
Whether you plan to study on your own or with a group, 1 Peter: Walk the Talk offers a thoughtful, practical look at this epistle. This seven-session study also includes a discussion guide with questions and optional activities.
Print Version:  $9.99 Paperback. 122 pages. Order from Amazon
---
SHEEPISH (PSALM 23)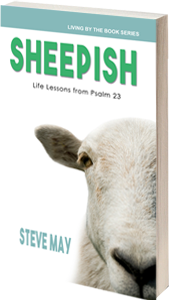 Before he was king, David was a shepherd. As he spent his days and nights looking after sheep in the desert, he learned some of life's most important lessons.
This great future leader learned that he was, before anything else, a sheep in God's pasture, under the shepherd's care.
Years later, after many victories and defeats, he put these life lessons into words. Psalm 23 is David's manifesto. His creed. His statement of life and purpose.
This book opens the beloved psalm phrase-by-phrase, focusing on the life principle taught in each verse.
These lessons will help you learn to experience contentment, find everyday peace, live with purpose, confront trouble with confidence, receive God's abundance, and face the future with optimism and hope.
Sheepish is a great resource for personal study, for group study, or for sermon preparation.
OPTIONS:
Print Version: $8.95 Paperback. 126 pages. Buy from Amazon
Kindle Version: $5.99 (Free with Kindle Unlimited) Buy from Amazon
---
BACK TO BASICS PREACHING
This quick-and-handy guide takes preachers and teachers back to the basic essentials of quality sermon preparation and delivery, reviewing 10 key habits that every person called to communicate the gospel needs to master.
OPTIONS:
Print Version: $4.59 Paperback. 52 pages. Buy from Amazon
Kindle Version:  $0.99 Buy from Amazon
---
OVERDRIVE: Mastering the Mechanics of High Speed Living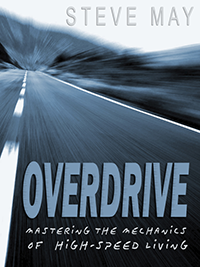 This book offers principles from scripture on how to live up to your potential. It's about how to obtain, gain, and maintain momentum, how to spend your days moving forward at maximum velocity, even while experiencing God's peace and enjoying the scenery along the way.
Chapters include:
• Spinout (how to quit spinning your wheels);
• Running On Empty (the importance of refueling spiritually, physically, and emotionally);
• Start Your Engines (overcoming procrastination);
• Velocity (getting more done through focused living).
Each chapter includes a "building momentum" section with questions for further reflection and/or group discussion, plus action steps to put each principle into practice in your daily life.
OPTIONS:
Print Version: $4.99 Paperback. 82 pages. Order from Amazon
Kindle Version: $3.99 Order from Amazon.
---
LIKE A ROCK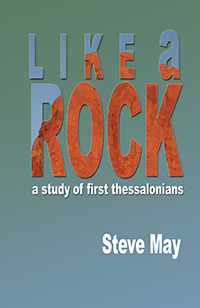 1 Thessalonians is the Apostle Paul's oldest surviving letter, the oldest book of the New Testament. It was written to encourage early Christians to stay strong, to remain solid in their faith, and to learn to live a life of character … to be like a rock.
Chapters include:
• Who Do You Want To Be Like?
• The Call To Community
• The Truth About Trouble
• Perfecting Your Swing
• Eyes Wide Open
OPTIONS:
Print Version: $7.95 Paperback. 116 pages. Order from Amazon
Kindle Version: $7.95 (free with Kindle Unlimited) Order from Amazon
---
VISION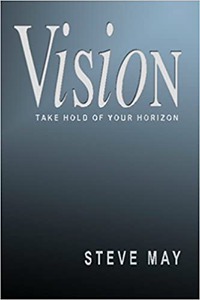 In this brief publication Steve May explores the concept of Vision — how to grow it, how to share it with others, and how to see it realized in your life.
Part one focuses on increasing God's vision for your life through priorities, through purpose, and through big dreams.
Part two shows how to follow Jesus' example in bringing others on board with your vision through a living example, through step-by-step training, and through tapping in to the potential of your team members.
Part three of this publication teaches you to put your vision to work through the principles of immersion, initiative, and perseverance.
OPTIONS:
PRINT VERSION: Paperback. 80 pages. Order from Amazon
KINDLE VERSION: $0.99 Order from Amazon
---
PREACHING THROUGH THE YEAR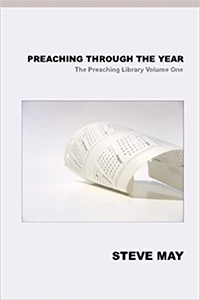 Steve May offers 56 sermons covering a complete calendar year, including all the special days and seasons. Preaching Through the Year contains a four part New Year's series, an Easter message, sermons for Mother's Day, Father's Day, and Thanksgiving, plus a Christmas series.
Also included are series and stand alone sermons on a variety of key topics, such as holiness, discipleship, family, prayer, adversity, and more.
Print Version:  $22.97 Paperback. 394 pages. Order from Amazon.
---
SIXTY SERMONS
Sixty sermons covering a variety of topics to help pastors plan their preaching schedule. This volume offers sermons for all the special days of the year: Christmas, Easter, Thanksgiving, Mother's Day, Father's Day and Pentecost. Additional topics include: prayer, worship, Bible study, family, holiness, and more.
Print Version: $23.99 Paperback. 414 pages. Order from Amazon
---
PREACHING PETER & PAUL
Forty eight sermons going passage-by-passage through 1 & 2 Peter and key epistles of Paul. Each book is organized into series, including Incourage (1 Peter); Transformed by Truth (2 Peter); Victory (Galatians); You Are God's Masterpiece (Ephesians); and Against the Tide (Colossians).
Print Version: $24.95 Paperback. 360 pages. Order from Amazon
---