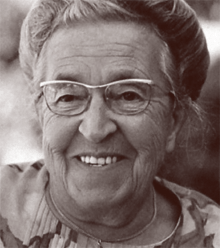 Many years after her release from a concentration camp, and after The Hiding Place had become an international best-seller, Corrie Ten Boom found herself in a situation where she was taken advantage of by some Christian friends whom she loved and trusted.
It was an emotionally devastating ordeal for her. She struggled with the ability to forgive, even though their offense was small in comparison to what she had suffered from the Nazis.
Again and again she resolved to put it behind her … but the resentment kept coming back. She would often lay awake late at night, rehashing all that had happened, fighting anger and bitterness, wondering why she couldn't let it go.
And then a pastor offered his perspective on the matter.
He said, "In the church tower, there is a bell which is rung by pulling on a rope. And after you let go of the rope, the bell continues to swing back and forth for a few minutes, and it continues to clang.
"The same is true of forgiveness…
"When you forgive someone, you take your hand off the rope. But if you've been tugging at it a long time, don't be surprised if the thoughts of resentment keep coming back for a while. They're just the clanging of the bell while it slows down."
I think we all know about the clanging of the bell.
Whenever you hear the toll of unforgiving thoughts, it's time to stop for a moment, make sure you've let go of the rope, and remind yourself once again that you have forgiven this person, just as God in Christ has forgiven you.
And move forward.
"And when you stand praying, if you hold anything against anyone, forgive them, so that your Father in heaven may forgive you your sins." (Mark 11:25)