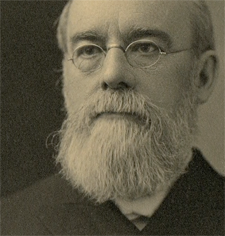 Here's another hymn story. This one takes place in the year 1879, when a soul-fatigued pastor found himself overcome with discouragement.
Washington Gladden had been serving God for 20 years, but had yet to see much fruit in his ministry. He was also beset by personal problems and family problems. And now he was at the point of despair — frustrated and discouraged; weak and weary. He felt like a failure in ministry, and a failure in life.
I'll give away the ending now and say that in the years to come, his life and ministry would be much different.
He would write dozens of books, hundreds of articles and editorials, and even publish a national magazine. He would become an influential voice in matters that shaped our cultural values in the early 20th century. He would also pastor a thriving church in Columbus, Ohio.
But in 1879 Washington Gladden couldn't see what was to come. He could see only what was today. He could only see his discouragement.
That afternoon he climbed up to the top of the church bell tower to be alone and to think for a while. The thought even crossed his mind that he could jump from the ledge and make his troubles disappear.
But he didn't jump. Instead, he poured out his heart to God, putting into words what would eventually become a hymn that has since appeared in more than 400 hymnals, and has been sung in hundreds of thousands of churches throughout the world for the last century and a half.
This is what he wrote…
O Master let me walk with thee
In lowly paths of service free.
Tell me Thy secret; help me bear
The strain of toil, the fret of care.
Reverend Gladden experienced what every pastor, every staff member, every missionary, every leader, every volunteer has experienced. He experienced what every person who desires to live a difference-making life has experienced.
I'm talking about Discouragement with a capital D. Disappointment. Frustration. Fatigue. Not the kind of fatigue where your body is worn out. The kind of fatigue where your soul is worn out. Where your will is worn out. And you're not sure how much longer you can carry on.
Many times our fatigue is stoked by a lack of measurable success. The paradox, however, is that racking up results rarely resolves the problem. In fact, there is only one real solution to overcome soul-fatigue. It is found in the first line of Gladden's hymn:
O Master let me walk with thee.
Results in ministry are always cause for celebration, but they're not enough in themselves to give us the strength to face a new day. This strength can be found only in the presence of a daily walk with Christ.
As the new week begins, and you take aim at every item on your list, remember that priority one remains the same: This is a journey we are called to make with Jesus, not merely for him.
"Come to me all who are weary and burdened, and I will give you rest." (Matthew 11:28)