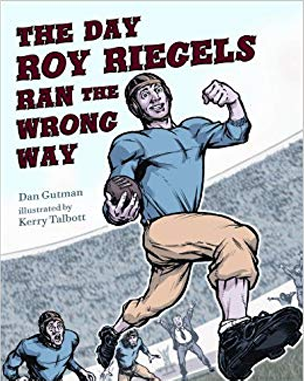 On New Years Day, 1929, Georgia Tech played California in the Rose Bowl.
Late in the second quarter, Roy Riegels recovered a fumble for California. In his excitement he became confused and began running in the wrong direction — for sixty-five yards.
He thought he was about to score. Instead, one of his teammates tackled him at their own 2 yard line.
This meant that his mistake put California 98 yards away from where they needed to be; 98 yards away from where they could have been had he had a better sense of direction.
The mistake was serious. A few plays later, Georgia Tech got the ball back and scored.
In the locker room at half time, Roy Riegels sat in the corner with his face buried in his hands, humiliated. The rest of the room remained silent. The coach didn't make his usual half-time speech, but shortly before they were to take the field again, he said, "The starting team will begin the second half."
The players all left the locker room, except for Riegels, alone on the bench, his head hung in shame. He said, "I can't do it, Coach. I can't play. I've ruined the team."
The coach simply said, "Get up Riegels. The game is only half over. You belong on the field."
He did the take the field that afternoon, playing what he later referred to as the best half of football in his college career. He said, "I gained true understanding of life from my Rose Bowl mistake. I learned you can bounce back…"
It's a lesson we can all put into practice. Even if all your life has been spent running the wrong way, even if your missteps have you 98 yards away from where you need to be, you belong on the playing field. There's still some game left to play.
This reminds of what the Apostle Paul said…
But one thing I do: Forgetting what is behind and straining toward what is ahead, I press on toward the goal to win the prize for which God has called me heavenward in Christ Jesus. (Philippians 3:13-14)