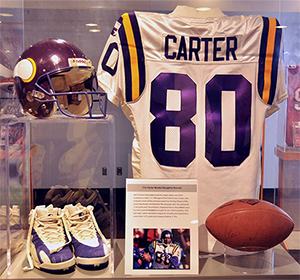 In February 2013 NFL wide receiver Cris Carter was inducted into the Pro Football Hall of Fame — an honor well deserved. He had a great career.
However, it didn't look like he was headed in that direction after his first few seasons in Philadelphia.
Carter was a gifted athlete, but his early career suffered because of off-the-field issues, mainly related to drug abuse.
After being cut by the Eagles, he was picked up by the Vikings. It was around this time that Cris got serious about following Christ.
In Minnesota, he made the most of his second chance. He began the process of turning things around personally and professionally.
And what a turn-around it was: He went on to play in eight consecutive Pro-Bowls, and broke several receiving records, becoming one of only a handful of receivers with more than one thousand career receptions.
In an interview a few days before his Hall of Fame induction ceremony, Cris had this to say:
"I wish I had done everything right. I have regrets. And when you've got a dark chapter in your life, people will try to make that the final chapter in your life. But it doesn't have to be.
"For me, when it got the darkest, I said 'this is not going to be the end of my book.' I was able to start making decisions and start doing the right things, and one thing happened after another…"
YOUR SECOND CHANCE
Some days it may appear that you're at the end of your book, as if the way things are today is the way things will always be.
Don't believe it. There are chapters in your life yet to be written.
Even today you can begin making decisions to change the outcome of your story.
"Forget the former things; do not dwell on the past. See, I am doing a new thing! Now it springs up; do you not perceive it? I am making a way in the wilderness and streams in the wasteland." (Isaiah 43:18-19)
---
Taken from Steve's book It's All in the Dailies.
Cris Carter HOF photograph by Eric Daniel Drost.