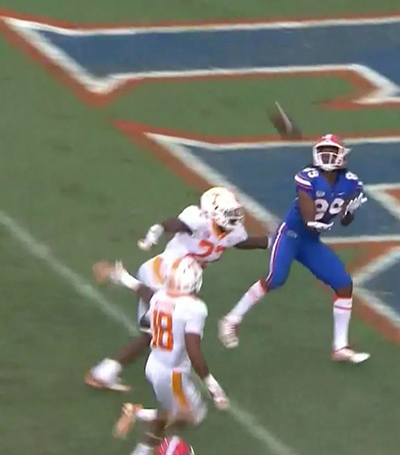 Living in the Nashville area, I am something of a Tennessee football fan — both the Titans and the Volunteers. (Actually, my first love is Oklahoma State football, but that's not central to today's post.)
Most football fans are aware that Tennessee lost a thriller to Florida last Saturday — a heart breaking loss.
A quick recap: When Tennessee tied the score with a minute to go, the game seemed headed for overtime. Then, just as time ran out, the Gators won on a 63 yard precision pass play that no one — especially the Vols — saw coming.
After watching the game live on Saturday, I watched it again on the SEC Network playback later in the week, glutton for punishment that I am .
And that's when I noticed the point I want to make today.
It happened just moments before the winning play. Florida, at their own 35, had just run the ball up the middle for a short gain. Then they wasted some time on the clock before calling time out.
Of course, as I watched the playback, I knew what was coming next.
But those in the stands watching it live didn't know what was coming next, and the Florida crowd didn't like the play call at all.
When the clock finally stopped with nine seconds to go, the fans began to boo — loudly. It appeared to them that their team had squandered an opportunity.
As it turns out, the Gators had squandered nothing. On the next play they scored the game-winning touchdown and the rumbling boos were replaced with thunderous cheers and joyous celebration.
Now, here's my point.
The booing before the winning play was loud. Loud enough to distract a less-than-focused team. Loud enough to rattle a less-than-confident quarterback.
But the Gators, to my chagrin, paid no attention to the noise from the stands. They just ran the next play and won the game in highlight-reel fashion.
There are some lessons to learn here.
First. You can be one play away from an earth-shaking victory … and still get booed.
Second. Those booing you now might be cheering you soon. And vice-versa. Crowds tend to be fickle.
Third. Don't let the grumbling from the bleachers throw you off your game — especially when you're trying to correct a mistake. Simply do next what you know you're called to do, and do it as well as you can.
Last, but not least — if you're the Vols, cover the deep guy.